3161 Harbor Blvd, Suite B
Port Charlotte, FL 33952
We use tried, tested and studied treatment protocols to get you back on your feet fast

Offer comprehensive care from day one, leverage technology for improved patient care

Quick access to the best / quality care guaranteed.
Whether you have ingrown toenails, foot / ankle fractures to severe car accident
requiring reconstructive foot / ankle surgery,
FFLC continues to be the award winning center.
Visit FFLC #PortCharlotte office for your foot and ankle needs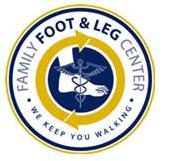 We welcome you as a patient to our podiatry practice in Florida. We currently have 8 locations across Lee, Collier, and Charlotte counties, We are grateful that you have chosen us as your complete foot and lower leg care center.
Quick access to the best / quality care guaranteed. No foot / ankle matter too big or too small for our attention. You and Your Family deserve the best.
New - Laser Treatment for Fungal Toenails!

Are you embarrassed to show off your nails in sandals?
Are you not a candidate or do not want to take the oral medications?
Do you want the latest technology without the complications?
Do you want the most cost effective and efficient laser treatment?
The cool touch nail laser treatment treatment is here for you!

Flat feet? Get them fixed with Hyprocure before a full collapse and tendon tears. Right foot waited too long , left foot done early and prevented posterior tibial tendon collapse.
Philosophy
Walking is a gift that is most appreciated when it is lost or impaired.

Likewise, pain does not favor age or social status. As a doctor, my devotion is to help you and your family enjoy the gift of walking without the discomfort of pain. We get you in fast to help you with our pain.
We Keep You Walking.
EDUCATION
– 2017 Podatric Residency (PMSR-RRA)
Chino Valley Medical Center, Chino Valley California
Chief resident 2016 – 2017
– 2014 Doctor of Podiatric Medicine
Western University of Health Sciences, Pomona, California
– 2013 Masters of Science in Health Sciences
Western University of Health Science, Pomona, California
– 2007 Bachelor of Science, Biology
University of Tampa, Tampa, Florida
HONOURS & AWARDS
2016-2017 Chief Resident
Chino Valley Medical Center- 2014 Dean's list MSHS
Western University of Health Sciences
Honors MSHS
-2014 Western University of Health Sciences
Who's Who Among Students In American Universities and Colleges
-2013 Western University of Health Sciences
Presidential Academic Scholarship
-2003 – 2007 University of Tampa
-2003 – 2007 Dean's list
University of Tampa
-2005 Chair, Honors Council for fundraising
University of Tampa
Phi Eta Sigma (Honor Society Acceptance)
-2004 University of Tampa
Honor's Council Member
-2004 University of Tampa
– 2004 Chair, Honors Council for recreational activities
University of Tampa
Family Foot & Leg Center, Main office
Port Charlotte location
3161 Harbor Drive, suite B
Phone: (239) 430-3668 (FOOT)
Phone: (833) 3668 534 (FOOT LEG)

Emergency Patients Welcomed
Urgent Care for Foot & Ankle Trauma
Same Day Appointments Available
Need a foot / ankle doctor STAT in Port Charlotte area?

FFLC promises same business day or within 24 hours for appointments. Skip the high priced and long waits at emergency rooms when you can get specialist care, ASAP.
Everyone in this office is a trained professional and works as a team member, taking pride in their work.

From ingrown nails, heel fractures, ankle fracture Achilles tendon injuries, and lacerations: call us now.
Phone: 833 366 8534 (FOOT LEG)
Fax: 239 692 9436
You can now request appointment AND expedite check-in through our PATIENT PORTAL.
Schedule your appointment by calling : 239 430 3668 option 2 at voice prompt. Or use the
patient portal
for electronic scheduling requests 24 hours a day, 7 days a week.Our patient advocate will contact you during business hours to coordinate your visit with us.
Call Today:833 366 8534(FOOT LEG)
Self Service # 844-889-1725
Fax: 239 692 9436
At FFLC, we use advanced wound healing technologies to help keep patients out of the hospital and onto healing.
Faster recovery time
Better results
Improved long-term outlook
Optimal quality of life
Covid Toes - What You Need To Know
Dr. Isin Mustafa Family Foot and Leg Center, Port Charlotte
Physical Therapist and Podiatrist talk about Achilles Tendonitis
The latest on the Covid-19 pandemic with Dr. Mustafa and Dr. Aguero of Island Doctors.