Dr. Kevin Lam * Dr. Drew Chapman * Dr. Lori DeBlasi
Dr. Patrick Bartholomew * Dr. Lauren Pelucacci * Dr. Sahiba Singh
Dr. Isin Mustafa * Dr. Joseph Altepeter * Dr. Karan Malani * Dr. Robert Bello
At the Family Foot and Leg Center, we pride ourselves in dealing with complex cases of reconstructive foot / ankle medicine and surgery.
The practice has been distinguished by fellow physicians, nurses and therapists as a center for advanced care.
We are honored to be the chosen physicians / surgeons for so many of our fellow doctors, nurses and hospital staff members. FFLC is dedicated to continue to be a center of excellence and to be at the forefront of foot / ankle surgery.
Our doctors are held to the highest standard of double board certification / qualification and consistent peer reviews.
Fact

: No one does more foot and ankle surgery in Collier County than the FFLC doctors.


Fact: Nationally recognized surgeons and physicians


Fact: Surgically trained by top physicians in the field


Fact: Your last stop for answers to your foot / ankle needs
Our centers available for same day appointments or within 24 hours on weekdays
Access to specialist:
Portal and Self Service Portal open 24 /7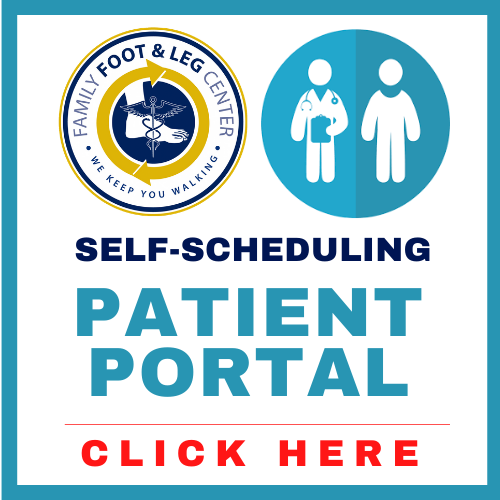 Use the convenience of our website to request an appointment and save yourself a few extra "steps"! Quick access to the best / quality care guaranteed. Gratitude to our patients and colleagues for recognizing us as a premier practice in Foot / Ankle medicine and surgery. No foot / ankle matter too big or too small for our attention. You and Your Family deserve the best.
Schedule your appointment by calling : 239 430 3668 option 2 at voice prompt.
Or use the patient portal for electronic scheduling requests 24 hours a day, 7 days a week.

Our patient advocate will contact you during business hours to coordinate your visit with us.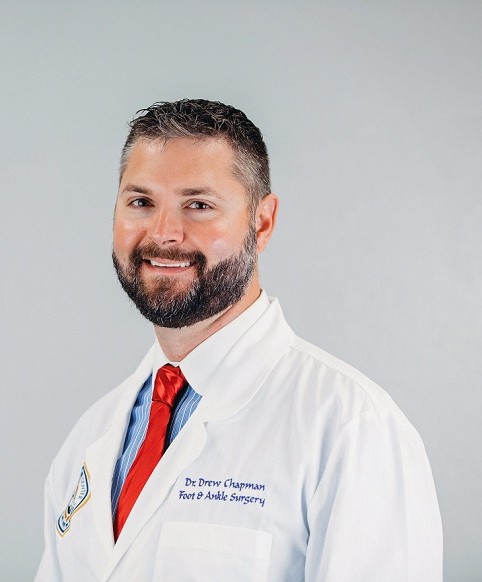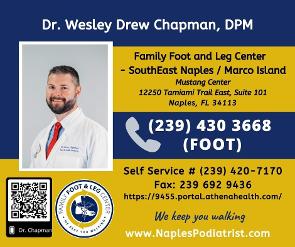 We will get you back on your feet and ankles fast. Our friendly staff is waiting for your call or online request.
Use the convenience of our web site to request an appointment and save yourself a few extra "steps"!
We will make every effort to get you in to see our doctors fast, guaranteed. If there is a delay you may email the staff, call, use our portal or even email our clinical director.
"I personally don't believe in waiting 2 months , 2 weeks, or even more than 2 days to see a doctor when you need one.

Concierge access without the fees. "

--- Dr. Kevin Lam, D.P.M., FACFAS, DABLES, DABPS

Clinical Director



Request an appointment online by using the PATIENT PORTAL, your self service web tool.
You can use our ONLINE SCHEDULING for same day or next day appointments.
Our office will contact you soon upon receiving your completed request.
Call us at our office at (239) 430-3668 option 2 for scheduler.
Our operators at option #2 are open Monday through Saturday 7am until 7pm Eastern Standard Time.
Emergency patients always welcome!

My husband and myself strongly recommend Dr. Lam. Our care was exceptional, above and beyond, and his staff was friendly and welcoming.
Dr. Lam is friendly and professional. The care he gave both of us was comforting. He is so easy to talk to and has a smile on his face. We would not go anywhere else.
-Gloria W

I cannot say enough good things about Dr. Singh and the staff. Every medical office should run this efficiently and with genuine care and concern for its patients. Dr. Singh is a wonderful physician and very knowledgeable about new techniques that become available. I highly recommend this podiatry office.
-Brianne L

EXTREMELY PROFESSIONAL THOROUGH AND A VERY CARING DOCTOR. We are always at ease and comfortable in the doctors office. Takes time to answer questions in an easy and understanding manner. Ruth, Tatyana, Cheyenne and Dr.Singh are nice and very knowledgeable. I've been through the circuit of doctors and Dr.Singh is by far the best.
-Kenneth D

I went to see Dr. Mustafa at the location in Port Charlotte and was very pleased with her. Dr. Mustafa, Nikita, and Keely were very welcoming and helpful. I am on my way to doing the recommended treatment to heal. They make an awesome team and definitely recommend them to others. Thank you Dr. Mustafa and staff.
-Cristal S

Dr Dunleavy has been terrific to me. I am convinced that he saved my foot. Most would have "lobbed" it off. He has been a very proactive wound care advocate for me as well. He is always friendly, personable, and professional when dealing with me. He speaks in terms that I can easily understand and he does not "sugarcoat" any situation. I have and will continue to recommend Dr Dunleavy to anyone I know that could use his help. I do so without hesitation. I was so fortunate to find him and feel that because of his expertises I am still walking! What more can I say? He' the MAN!
-Ron R

I was going to another foot Dr. and not much happen. Went for several months. Went to Dr. Crist and he put a graft on the wounds and now, after two months, only one is being treated. I am well pleased with the results. He now is also working on my foot for a toe nail fungus.
I would highly recommend him for his work he has been doing and future problems that may need to be addressed.
-James H
Dr. Lam performed major correction of a congenital condition of both forefeet. In time, I would have been greatly reduced mobility-wise and comfort-wise…..a nearly crippling condition. I researched a second opinion through a major practice at a major Chicago hospital group just to understand my options given the seriousness of my prognosis. The left surgery reconstructed 75% of my foot, the right done in late 2013 a year after the first, is major but far less severe. This is major work, and I wouldn't want anyone else but Kevin Lam to do the work. If one takes the time to learn Dr. Lam's history and has reason to work with the physical therapy staff, their excellence is easy to discern for yourself. My wife had a noninvasive regenerative procedure for a torn tendon two years ago. This is how I met Dr. Lam and gained the fullest confidence in him. Said a different way, Dr. Lam and his practice are leaders in their field and truly care about patient outcomes. Their control over difficult processes and ensuring and explaining cautious recovery in a business-like way is there for the patient. Pain and wound management are incredible because they care and because they have the skills. They have great pride in their work, which deserves patient recognition. Pride and concern are too frequently lacking in our society. Not at the Family Foot and Leg Center.
Via Facebook post.
E. Sachs.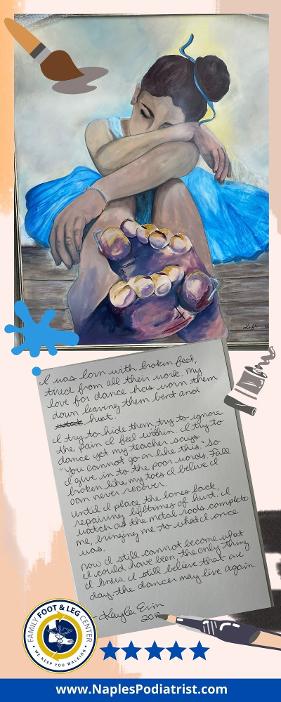 "I was born with broken feet, tired from all their work. My love for dance has worn them down leaving them bent and hurt.

I try to hide them, try to ignore the pain I feel within. I try to dance yet my teacher says 'You cannot go on like this.' So I give in to the poor words. Fall broken like my toes I believe I can never recover.

Until I place the bones back, repairing lifetimes of hurt. I watch as the metal rods complete me, bringing me to what I once was.

Now I still cannot become what I could have been, the only thing I knew. I still believe that one day the dancer may live again."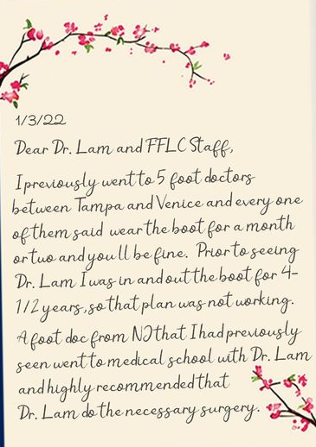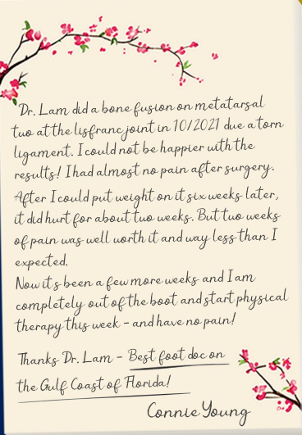 1/3/22
Dear Dr. Lam and FFLC Staff,

I previously went to 5 foot doctors between Tampa and Venice and every one of them said wear the boot for a month or two and you'll be fine. Prior to seeing Dr. Lam I was in and out of the boot for 4 1/2 years, so that plan was not working. A foot doc from NJ that I had previously seen went to medical school with Dr. Lam and highly recommended that Dr. Lam do the necessary surgery.
Dr. Lam did a bone fusion on metatarsal two at the Lisfranc joint in 10/2021 due a torn ligament. I could not be happier with the results! I had almost no pain after surgery.
After I could put weight on it six weeks later, it did hurt for about two weeks. But two weeks of pain was well worth it and way less that I expected.

Now its been a few more weeks and I am completely out of the boot and start physical therapy this week -- and have no pain!

Thanks Dr. Lam -- Best foot doc on the Gulf Coast of Florida!
Connie Young
Serving Southwest Florida Since 2005, Family Foot & Leg Center has 9 convenient locations throughout Collier, Lee, Charlotte, and Sarasota Counties. Offering pediatric to geriatric family care: Ingrown Toenails, Heel Pain, Bunions, Foot / Ankle Arthritis Pain, Plantar Fasciitis, Foot / Ankle Surgery, Custom Orthotics, and Diabetic Wound Care. In office X-rays, ultrasounds, and minor surgical suite exam rooms. Practice powered by EMR and advanced technologies.

Home of the Lam Minimal Invasive No-Scar Bunion Surgery! Come Discover Why Patients Love Our 5-Star Foot & Ankle Care!

Same Day Appointments! Easy Online Appointment Scheduling!