Dr. Kevin Lam* Dr. Wesley Drew Chapman * Dr. Isin Mustafa
Dr. Patrick Bartholomew * Dr. Lauren Pelucacci * Dr. Sahiba Singh
Dr. Jake Powers * Dr. Joseph Altepeter* Dr. Lori DeBlasi
What Gout Affects
Gout is a crystalline or inflammatory form of arthritis. Gout develops when there is too much uric acid in the bloodstream. This dissolved uric acid then comes out of the bloodstreams and forms spike-like crystals in the joints or soft tissues. The high levels of serum urate cause painful, swollen, stiff joints, it most commonly appears as sudden swelling at the base of the big toe.
If you have gout, talk to your doctor about
Chronic Kidney Disease and Kidney Stones
Uric acid crystals build up in the kidneys and can cause problems. This can range from reduced function to kidney failure. Although the damage is progressive, the appropriate treatment can slow down its progress. A study showed that people with gout have a 78% higher risk of moderate kidney disease. This condition typically has no symptoms. It is estimated that 1 in 5 people with gout can have kidney stones that form when uric acid crystals settle in the organs and block the urinary tract. The higher the uric acid level, the higher the risk, the study found.
Heart Disease and Stroke
Studies also reveal that gout is associated with an increased risk of several types of cardiovascular disease such as irregular heartbeat or atrial fibrillation, heart attack, and heart failure. It was found that adults 65 and older at an increased risk of heart attack compared with those without gout. Gout also increases the risk for peripheral vascular disease and stroke.
Diabetes
Women with gout are 70% more likely to develop diabetes while it increases the risk my 20% for men.
Out-of-control chronic gout can be painful, unpredictable, and cause permanent damage. Even after gout flares end, uric acid crystals from gout stay in your body, settle in your joints, and damage your bones.
Untreated gout can lead to worsening pain and joint damage. Gout comorbidities include sleep problems, mental health problems, diabetes, heart disease, kidney disease, tophi, and bone loss.
If you have chronic gout, contact us at (239) 430 3668 to find out more information.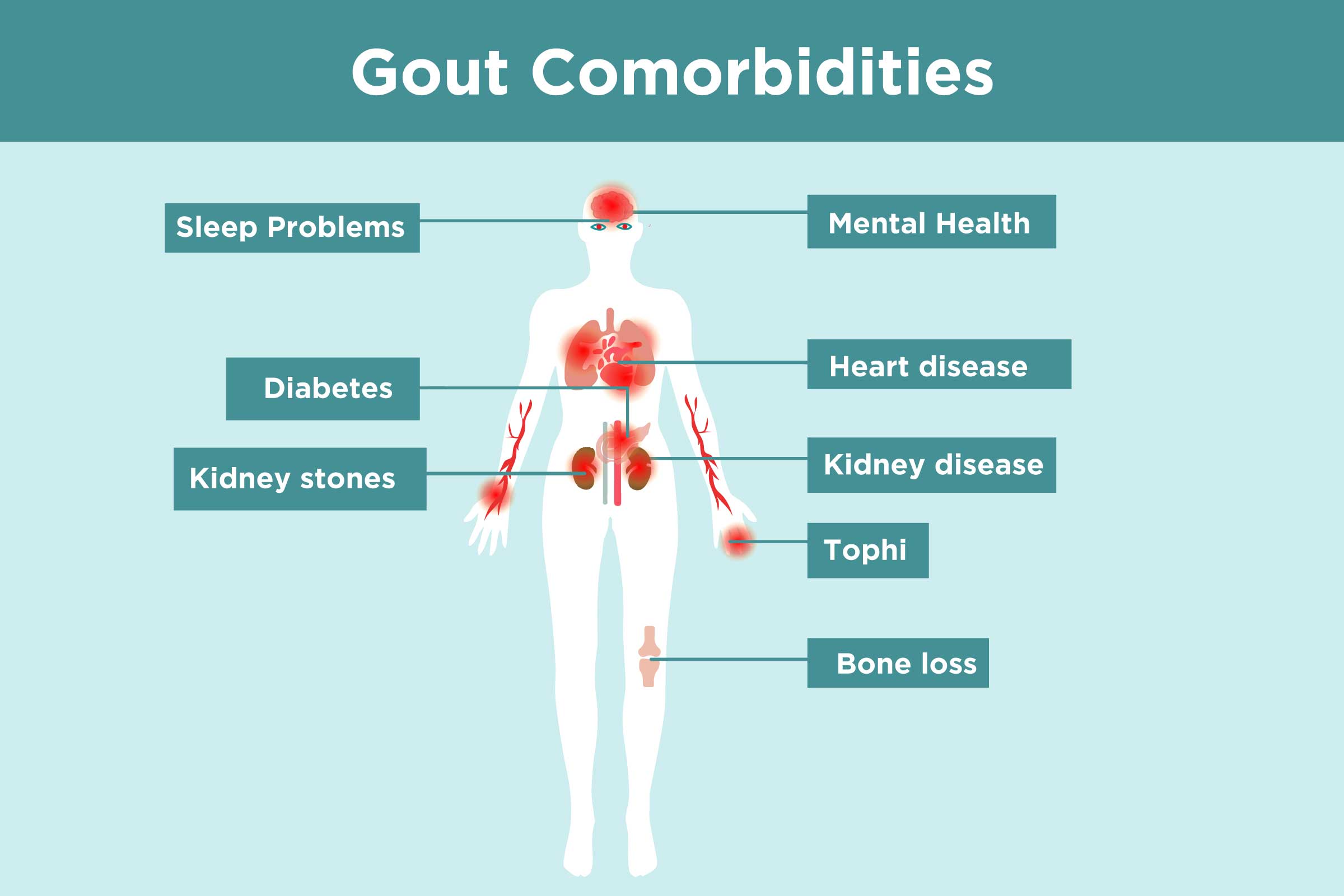 CHD, coronary heart disease; PAD, peripheral arterial disease; PVD, peripheral vascular disease; sUA, serum uric acid
Negative effects of gout on the heart, kidneys, joints
Some people may experience recurrent gout. If left untreated, there can be deposits of urate crystals under the skin nodules called tophi, commonly found in the fingers, hands, feet, Achilles tendon, and the backs of the ankles. Urate crystals may also collect in the urinary tract of people with gout, eventually causing kidney stones.
People with gout have also been found to have higher risk of cardiovascular disease. Hyperuricemia is associated with endothelial dysfunction, which may contribute to risk of heart disease.
Call Today: 239 430 3668 (FOOT)
Self Service # 844-889-1725
Fax: 239 692 9436